BetKing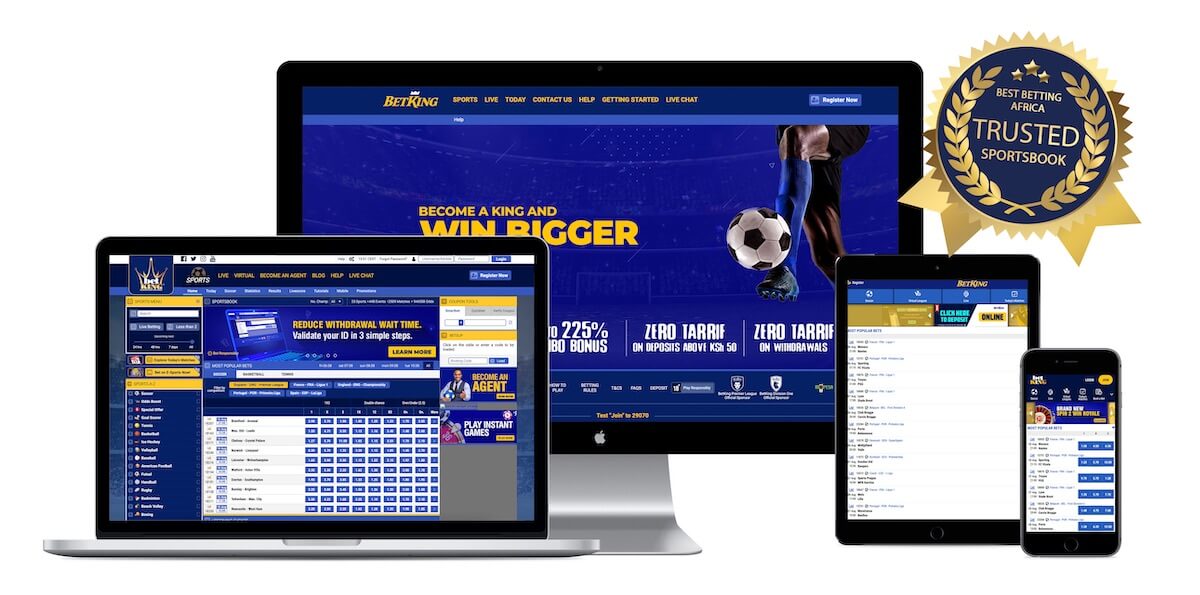 BetKing is a fairly new Nigerian online sports betting operator with big goals. While it's still a fresh face on the scene, it's doing everything right! The operator has an excellent product offer that includes tons of international markets, plenty of betting variety, and big payouts!
BetKing is growing more by the day, and with Kenya and Ethiopia now under its wings, its future looks bright! In this BetKing review, we'll explore why punters should choose BetKing and how it can enhance their online betting journey.
Operator's ultimate goal is empowering its players to feel like royalty. Of course, this hopeful message is relayed all across the BetKing's website! The design of the page looks and feels premium, it's easy to get around, and it showcases the right features. Players can easily find what they're looking for on the site, and there's plenty to see in terms of sports.
To give you a clearer picture of what BetKing is all about, we've compiled a list of some key facts:
BetKing offers over 20 different sports in several markets

BetKing supports about 10 payment options, including GTB, Paystack, Paydirect, UBA, and Opay

BetKing was established in 2018 with headquarters in Lagos, Nigeria

BetKing is licensed by the Lagos State Lotteries Board, Anambra State Gaming Company. It also holds a sports and gaming license issued by the Osun State Government. BetKing also has a license from the National Lotteries Board!
BetKing review by country
BetKing history
It's safe to say that BetKing doesn't have a very long history. The betting site launched back in 2018, so it's only been around for a few years. The good news is, it's already accomplished a lot in a small amount of time! BetKing has amassed a large player base in Nigeria, Kenya, and Ethiopia and they seem to love its ongoing offers!
BetKing's base of operation is in Lagos, Nigeria, which is where it got its start. The company quickly expanded its services to Ethiopia and Kenya, and it's doing well considering the fierce competition! A fun fact about BetKing is that it also offers agency services in Nigeria!
BetKing markets
As we already mentioned, BetKing currently operates in Nigeria, Kenya, and Ethiopia. The company initially started by offering sports betting and agency services in Nigeria. Shortly after its success in the country, BetKing widened its reach to the other two regions.
As of right now, BetKing has no concrete plans for expanding beyond these three countries. Luckily, we do know that the operator aspires to eventually bring the entire content into the fold! With the way it's growing, we don't doubt that it'll succeed in its plans to cover the entirety of Africa.
Why choose BetKing?
It's not hard to see why BetKing is an excellent option for any African punter. The main reason why players should go for BetKing is the sheer variety it offers! While most other local operators focus on a handful of popular sports, BetKing focuses on many. Players can choose between a myriad of sports in plenty of local and international markets.
Another big pro of choosing BetKing is the overall simplicity of the website. Thanks to the excellent combo of payment methods, nice layout, and varied selection, betting is a breeze. Newbies can figure out the ins and outs of betting immediately, and pros can appreciate the focus on separate sports.
BetKing Pros and Cons
The benefits of playing at BetKing are too many to count. While the site has plenty to offer, it also has a few drawbacks. Here are a few of BetKing's pros and cons that players should consider:
Pros / Cons
Excellent selection of sports
Live streaming on horse racing
Great promos and boosts
A variety of payment options
Competitive odds
Live betting and in-play cash-out
No casino product
No dedicated mobile app
BetKing registration
Registering an account at BetKing is a process most punters are already familiar with. If you've ever bet online before, you should be able to breeze through the sign-up within a few minutes. BetKing keeps things pretty simple for new players, requiring only the basics to get everything set up. The overall registration doesn't differ much from what you'd see on other online betting sites.
How to open a BetKing account
If you're a new player that wants to make BetKing their primary online betting provider, you're in luck! Here are the simple steps players need to take to register with the operator:
1) Launch the BetKing official website and click on the "Register Now" button in the top right corner of the page
2) Fill out the registration form with your personal information
3) Accept the terms and conditions of playing at BetKing
4) Submit the form, and you're done!
You are ready to place bets!
BetKing review quick links
BetKing Sports Betting
Sports betting is BetKing's bread and butter. The operator knows its strengths and plays into them, offering a wide array of sports that punters can bet on. Among them, players will find the typical popular sports all of us know and love. These include a myriad of football markets, tennis games, basketball matches, and more!
One thing that BetKing does better than most other African betting sites is widening its focus. Unlike other local operators, BetKing also includes several niche sports that players can try. Among them, you'll find Esports, pesapallo, field hockey, and others!
BetKing Football Betting
It's safe to say that football is currently the most popular betting pick at BetKing. The sport is a huge deal in the region, so its wide-scale popularity is unmatched. Football betting at BetKing is an overwhelmingly positive experience. Players have a plethora of international and local markets to choose from. 
Of course, big leagues like UEFA, La Liga, and the Premier League are also covered extensively! These exciting events are further supported by excellent odds and frequent boosts. While players might not be able to find football live streams on BetKing, the live betting offer doesn't disappoint.
Betting on Other Sports
Very few sports seem to match the popularity of football in Africa, but some do get close. At BetKing, the two biggest contenders for the top spot are tennis and basketball! We mentioned that the operator has plenty of other sports on deck, but none of them draw this much attention!
Tennis Betting
No matter what type of tennis event you're willing to bet on, BetKing has you covered. From major events like Wimbledon and the US Open to smaller local and international games, BetKing has it all. It's worth noting that while there's plenty to choose from in this category, players are much more limited than football.
When tennis odds and boost are in question, the outlook is good. The odds on tennis are competitive, and most of the bonuses on the site apply to tennis betting!
Basketball Betting
Basketball is another major player at BetKing. The sport gets plenty of traction, and rightfully so! At BetKing, players have the opportunity to bet on the NBA, WNBA, and plenty of other international leagues in the lobby! Market coverage for basketball at the operator is insanely good compared to other operators in the region.
The promotions players can use while betting on basketball are also pretty good. While they're not aimed at basketball specifically, they can be used to boost basketball bets! Combined with the solid odds, basketball betting can be quite lucrative for experienced punters.
---
BetKing Nigeria

Nigeria is home to BetKing, so it's only fitting that their platform reigns supreme in the region. As expected, BetKing players in Nigeria are in for a treat. They're privy to tons of international and local markets, frequent promos, cash out, live streaming, live betting, and much more! They have everything it takes to start betting like kings, so they shouldn't miss out on the opportunity!
BetKing Nigeria Welcome Bonus
The Welcome Bonus for BetKing Nigeria players is one that most punters can get behind. New players receive 100% Welcome Bonus on their first deposit that goes up to ₦100,000.
How to get the BetKing Nigeria Welcome Bonus?
To get the BetKing Nigeria Cashback Welcome Bonus, players need to follow a few simple steps. Here's a quick breakdown:
Register an account with BetKing
Accept the BetKing terms & conditions
Make a deposit
Enjoy the bonus!
BetKing Nigeria Deposit Methods
Depositing at BetKing Nigeria is an overwhelmingly positive experience for most users. In contrast to most other local operators, BetKing includes plenty of payment options specific to the region. Sure, the betting site excludes some internationally popular online banking methods, but the ones it offers make up for it.
Among these methods, users will find options like Paydirect, Opay, Paystack, Polaris Collect, QuickTeller ATM, and others! The good news about using these methods is the low minimum deposit. Currently, it rests at only 100 Nigerian Naira. The bad news about depositing at BetKing Nigeria is that there's a small processing fee regardless of the payment option.
BetKing Nigeria Withdrawal Methods
One of the best things about betting on BetKing is the withdrawal process. The overall process is incredibly simple, requiring only your bank account info and a quick withdrawal request. What makes withdrawing from BetKing Nigeria even better is the lack of processing fees! While these fees are there when depositing, they're omitted from withdrawing.
There's more good news when withdrawing from BetKing Nigeria is in question. The processing time for transactions at the operator is insanely short. In most cases, it will take players up to 24 hours for their withdrawal to be processed and credited. Considering how most operators these days have an average waiting time of at least two days, this is a blessing!
BetKing Customer Support Nigeria
Nigerian players will be happy to learn that contacting BetKing is a breeze. The best way to get in touch with the betting site's Customer Care Team is through Live Chat. The option is available through the website, and the response is almost immediate. Similarly, players can contact BetKing Support by phone for a quick response. 
If you don't mind waiting a bit, reaching out by email is the best course of action. Email responses take up to 24 hours but they're very detailed! Here are all the ways Nigerian players can currently use to contact BetKing: 
Live Chat: Available 24/7 through the BetKing website

Customer Support Number: 01-2777247

Whatsapp Number: 08158360218

Email: cs@BetKing.com 

Facebook (/

BetKingng

)
Twitter (

@BetKingng , @BetKinghelp

)
BetKing license Nigeria
BetKing holds multiple licenses that Nigerian players can find on the operator's website. It's licensed by the Lagos State Lotteries Board, Anambra State Gaming Company. Additionally, it also holds a sports and gaming license issued by the Osun State Government. The icing on the cake here is the operator's license from the National Lotteries Board!
Thanks to these licenses, players can rest assured that BetKing pays out on time and follows fair gaming guidelines. Another security measure that might put players at ease is the website's SSL encryption. The company uses the latest SSL encryption tech to keep player information safe from hackers and malicious software!
---
BetKing Kenya

BetKing might be based in Nigeria, but it's been open to the Kenyan market soon after its launch. The operator ensures Kenyan players are treated to the entire product offer and have the same benefits as users everywhere. Naturally, this includes a variety of sports and betting markets, fun features to boost betting, and plenty of promotions!
BetKing Kenya Welcome Bonus
Kenyan players are in for a nice surprise when the BetKing Welcome Bonus is in question. Unlike most traditional bonuses, the BetKing Welcome Offer is a bit different. The offer consists of a 100% Cashback bonus that applies to your first bet on the site. The cashback amount can go up to KSh 900 for Sportsbook and KSh 300 for Virtuals!
It's worth noting that players can only receive this amount if their first qualifying bet is a loss. The bonus acts as a failsafe, ensuring your start on the website isn't disappointing in the slightest.
How to get the BetKing Kenya Welcome Bonus?
It's not hard to obtain the BetKing Kenya Welcome Bonus. If you're willing to give this bonus a shot, here's how you can get it:
Register an account with BetKing
Accept the BetKing terms & conditions
Make a bet (the bet must consist of minimum of 5 selections for Sportsbook and a Minimum of 3 selections for Virtuals) 
If your bet loses, the Cashback will be credited to you within 24 hours!
BetKing Kenya Deposit Methods
Kenyan players are often disappointed by the lack of popular local banking options available on online betting sites. Thankfully, BetKing changes that! Like everywhere it operates, BetKing offers Kenyans a slew of deposit methods that pretty much cover all bases. While some world-class e-wallet options don't make the list, the local options available are a good alternative.
At the moment, some of the most popular picks among Kenyan users are Paystack, Paydirect, Opay, and UBA. Naturally, the complete list is much longer than these four methods. It also includes QuickTeller ATM, Polaris Collect, Interswitch Webpay, and more! With most of these methods, the minimum deposit limit starts at 100 Naira or just over 25KSh. The maximum limit varies greatly between options.
BetKing Kenya Withdrawal Methods
While it's pretty rare to see, withdrawing at BetKing Kenya is even easier than depositing. All users need to do to make a withdrawal is enter their bank account and request a payout! One of the best things about this is the lack of fees. While depositing might incur a small fee from players, withdrawing costs nothing!
The good news here just keeps coming. Another big benefit of withdrawing from BetKing Kenya is the minuscule waiting time! Players might need to wait up to 24 hours for their withdrawal request to be processed. Once this is complete, the funds are credited almost instantly! It's good to note that when withdrawing an amount larger than 300,000 Naira or about 79,000KSh, players will need to verify their identity.
BetKing Customer Support Kenya
For Kenyan users, the best way to reach BetKing is by Live Chat or phone. These two options always facilitate a fast reply and continuous open communication. If you prefer something a bit less personal, you can contact the team through email! If you go for this option, remember to be as detailed as possible with your inquiry. 
Here are all of the contact details Kenyan players need to get in touch with BetKing:
Live Chat: Available 24/7 through the BetKing website

Customer Support Number: 0 1111 4 3000

Email: cs@betking.co.ke

Facebook (/

betkingkenya

)
Twitter (

@betkingkenya

)
BetKing license Kenya
BetKing Kenya is trading under Entertainment Network Group (K) Limited and is licensed by BCLB(Betting Control and Licensing Board of Kenya) under the Betting, Lotteries and Gaming Act, Cap 131, Laws of Kenya under License number: 0000285
The safety of the BetKing website in Kenya is guaranteed by top-end SSL encryption technology. The tech keeps private player information obscured, making it unreadable by third parties. Thanks to this, private player information is inaccessible by hackers and other threats.
---
BetKing Sportsbook Odds
The overall odds offered on BetKing are pretty good. Compared to most other operators in Africa, the odds it offers are somewhat high even! It's worth noting that this sentiment applies to the majority of sports currently offered on BetKing.
While they do tend to fluctuate slightly from time to time, they're mostly solid. Unsurprisingly, this is especially true when popular sports like football are in question.
BetKing App and Mobile Betting
BetKing mobile is a chaotic mix of pros and cons. Luckily, the pros tend to overpower the cons most of the time. The first thing players should note is that BetKing doesn't have a dedicated mobile app. While most players will see this as a negative, there might be something good about it too. Mainly, players don't need to download anything and waste any phone storage.
The lack of a dedicated app is only good news because the betting site has excellent mobile optimization. Players will find that the mobile website is highly functional, easy to get around, and flattering from a design perspective. The majority of BetKing sports, markets, and features are included on mobile, so players won't miss a thing!
How to bet on mobile?
As there's no dedicated BetKing mobile app, players will need to launch the betting site through a mobile browser. If you're not too familiar with mobile betting, we don't doubt you'll learn quickly. With BetKing, the mobile betting process is practically identical to what you get on PC. From the lobby, choose your preferred sport, choose a market, and make a selection! Once you've done this, your selection will appear on the bet slip. Submit the bet slip, and you're done!
Here's how you can do this through most devices:
Open your phone's browser (Example: Mozilla Firefox, Google Chrome, Opera, Safari, etc.)
Type in www.BetKing.com into the address field
Click on the "login" or "Register Now" button at the top right corner of the screen and enter the corresponding account details
Browse the lobby and start betting!
Live Betting on BetKing
Live betting is a massive success on BetKing. Punters love the excitement that comes with betting on ongoing matches, and we can't say that we blame them! Currently, BetKing offers live betting on most sports. While popular ones like football, tennis, and basketball have plenty more markets available, other sports get solid traction as well.
Live betting on football is undoubtedly the most prominent in this category. Punters can find a wide range of markets available here and place a variety of bets to keep things interesting.
BetKing Review Summary
FAQ
Does BetKing accept local currency?
Yes, BetKing does accept local currency. It's good to note that conversion fees may apply in some areas.
How to register on BetKing?
Registering on BetKing is pretty easy. First, players need to click on the "Register Now" button in the top right corner of the website. Once the pop-up form appears, they'll need to enter the required personal information. After this is done, all that's left is accepting the terms & conditions!
Is BetKing legal?
Yes, BetKing is legal. The operator is licensed by the Lagos State Lotteries Board, the Osun State Government, and the National Lotteries Board.
How do I get a welcome bonus at BetKing?
To get the BetKing Welcome Bonus, the first thing you need to do is register an account with the operator. Once your account is ready, accept the Welcome Bonus terms & conditions. The Welcome Bonus at BetKing is a Cashback Bonus valid only on your first bet. If you happen to lose the first bet you place with the operator, you'll have the bet amount credited back to you automatically.

Is BetKing secure?
Yes. BetKing uses the latest 128-bit SSL encryption technology to keep its website protected.

100% Cashback
Claim now